I receive free products to review and participate in affiliate programs, where we are compensated for items purchased through links from our site (at no cost to the buyer).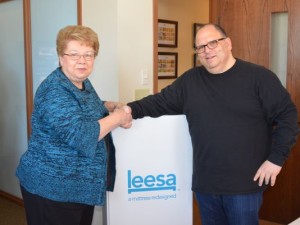 Leesa has decided to start March off with a bang by donating 300 mattresses to Union Mission Shelter in Norfolk.  These mattresses are going to be place in Union Mission's new facility, which will provide food, clothing, and shelter for the homeless – as well as a larger dining room and a chapel than their current facility.
Leesa, just recently launched in late 2014, is choosing to focus on giving back to the community from the start.  These mattresses are going to be a huge upgrade for the 115-125 men that regularly sleep on floor mats at the shelter.
David Wolfe, the CEO of Leesa, says that, "This is our first major gift. We want to give the gift of sleep to everyone."
Along with the 300 mattress gift, Leesa will donate 1 mattress for every 5 mattresses sold from March 1st to 3rd.  And if that's not good enough for you, they have a special promo for $60 off for mattress buyers during the same period.  There's never been a better time to buy a Leesa.
And don't worry if you miss out on the March special this week.  Leesa is going to continue to donate 1 mattress for every 10 sold as usual, and there may be ongoing promos available as well.  It's been a pleasure to see a company with a top quality mattress also focused on giving back to the community – and I guarantee Leesa will continue to keep shaking up the stale mattress industry as their company and brand continue to grow.
Make sure to check out my review for more information on the Leesa.