I receive free products to review and participate in affiliate programs, where we are compensated for items purchased through links from our site (at no cost to the buyer).
The 4Sleep mattress is a very popular new mattress that has got people talking because of its unique design and online-only business model.  I ended up trying out 4Sleep for about three weeks, and had a great experience overall.  I think for a certain person this is the perfect mattress, though it's not necessarily a perfect fit for everyone.  Read my 4Sleep review for my full experience.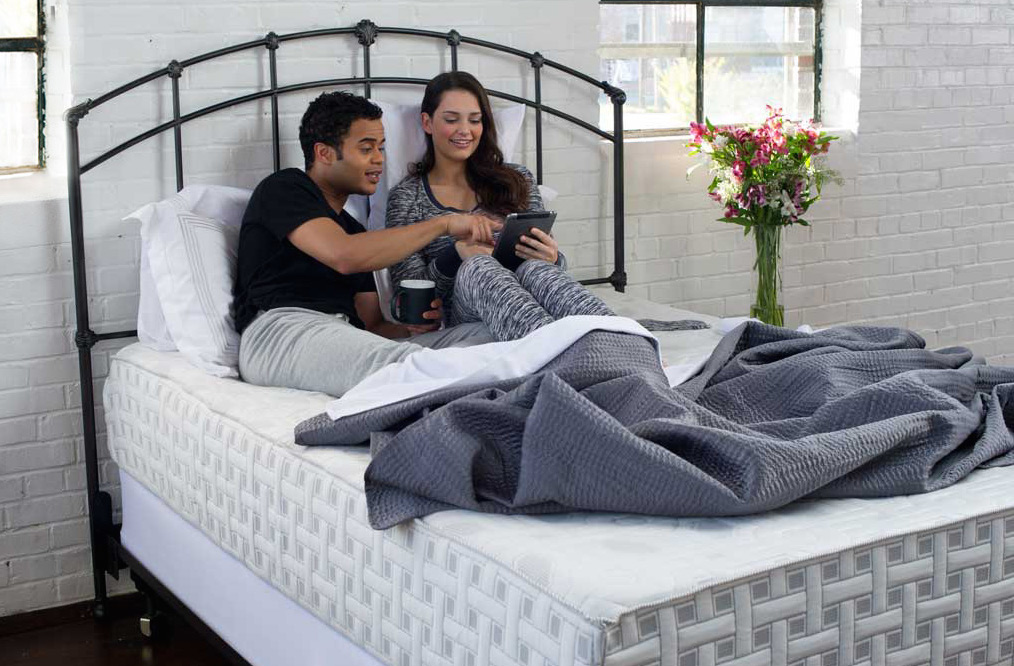 Comfort/Support/Firmness
I found the 4Sleep mattress to be very comfortable overall.  It has more of a plush feel than memory foam mattresses, with the top layers contouring very well to the body when laying on the back and side.  Even with this plush top layer, the mattress ends up being relatively firm, I'd put it at a 6.5/10 on the firmness scale.  It may even be firm enough to please a stomach sleeper, depending on their preference.
Business Model
Like many recent mattresses I've reviewed, the 4Sleep is sold exclusively online.  This means that you are getting perhaps the best price possible by buying directly from the company.  No salesman commissions, no extra shipping from factory to store to your home, no inventory, no retail space costs.  By passing much of this savings onto the consumer, you're looking at purchasing a mattress that would cost 2 or 3 times as much if you saw it in your local mattress store.
The only real downside of this business model is that you can't try the mattress out before you purchase.  The good news with 4Sleep is that you're getting a quality memory foam mattress – so if you're familiar with the feel of a quality memory foam mattress (think Tempurpedic) then you have the general idea of what to expect.  4Sleep also offers a 90 day trial period, where you can return the mattress for a full refund, no questions asked.  Thus if you like memory foam and the 4Sleep nuances intrigue you, there's really no risk in buying online.
Eco-Friendliness
It's memory foam, so it's not particularly eco-friendly.  It has the standard emissions certifications that the leading mattress companies have, but there's only so much you can do with this material.  The big advantage in this category would again be the direct-to-consumer business model; the mattress is made in America and shipped directly to the buyer, reducing a lot of the emissions associated with shipping mattresses internationally, or multiple times within the US.
Construction
The 4Sleep is 11 inches thick, consisting of 4 layers of memory foam and a cover.
The 

4Sleep

 Cover:  The 

4Sleep

 mattress has a modern retro look which I personally really like.  It's cover is made with a fabric used in high performance sportswear, with the aim of making it stretchable, breathable, and quick drying.  The cover also has a thermogel coating to help with cooling.
The Foam Layers

1.5 inches of gel memory foam: This layer contours to your body shape to help relieve pressure points and provide consistent support.  It is infused with gel to help the mattress sleep cool throughout the night
1 inch of foam – motion control: This layer has a bit of bounce to avoid that "sinking in" feeling in other memory foam mattresses.  It is also put in place to minimize motion transfer.
1.5 inches of foam – resiliency:  This layer provides much of the support and spinal alignment, which is especially important if you're heavier or have back problems.
7 inches of base foam:  This layer is the foam foundation for the mattress.
Edge support system – there is an additional layer that runs along the side edge of the mattress. This is 2.5″ foam layer helps reinforce the edges for both sleeping and sitting, preventing their collapse. Note: present only on the side edges, not the head or foot of the mattress.
Sleeping Cool
The big issue that some memory foam mattresses have is that they sleep hot – that is that throughout the night the memory foam absorbs your heat, creating an uncomfortably warm sleeping surface.  The 4Sleep mattress has tried to offset this through gel in the top layer, and in my experience they succeeded.  I was sleeping on the mattress during the hot months of summer and had no issue with the mattress sleeping hot (and I'm very picky about this).
Overview
I think that 4Sleep is a great option.  If you are not a memory foam lover, this mattress won't magically change your mind – but if you're on the market for a high quality memory foam mattress, 4Sleep is a great option.  It beats retail store prices by a large margin, doesn't sleep hot, and has a great return policy in case some of the nuances don't suit you.  Overall I'd say if you're interested in 4Sleep, I would definitely give them a try.