I receive free products to review and participate in affiliate programs, where we are compensated for items purchased through links from our site (at no cost to the buyer).
The design of Spoon Sleep's mattress acknowledges something that seems radical in the mattress industry but is actually quite simple: human bodies are not flat surfaces meant to lie on top of other, unforgiving flat surfaces. Our bodies are heavier in some places, pointier in others, and our mattress should conform to our uniquely shaped bodies. Spoon mattresses are the most customized you can get without actually ordering a custom mattress. They offer one mattress design because they believe it offers the best support for everyone.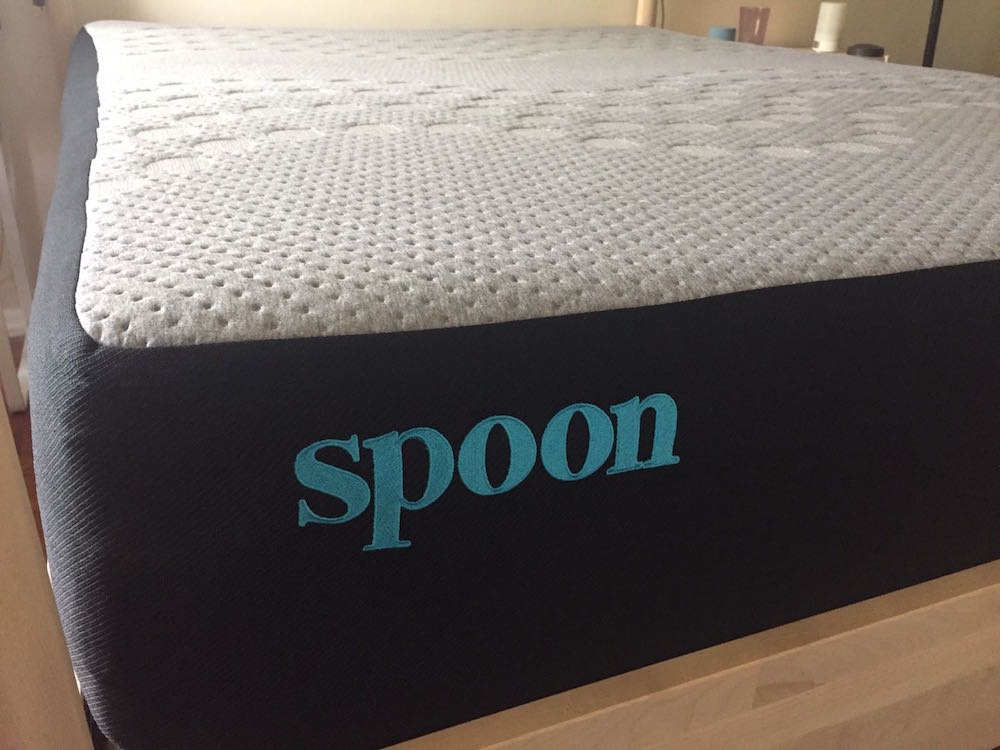 Key Features
A layer of strategically placed, uniquely designed foam pillars make up this mattress to better contour against your body

Breathable, spill resistant cover
Free shipping (arrives compressed and rolled up in a box to your door) and free returns with a 100 night trial (including pick-up)
10 year limited warranty
10″ mattress profile
Designed to withstand thousands of compressions to you many nights
Takes pressure off of your back, hips, and shoulders
Movement absorbing design
Designed to be your "life hub", beyond being just where you sleep, where you can also spend your entire day (if that's how you're living)
Who Makes It?
Spoon Sleep is a new company, launched in 2017 and co-founded by a former Sealy executive and engineer. Spoon's leadership has a collective 70 years of bedding industry experience. Spoon mattresses are designed and manufactured in the USA.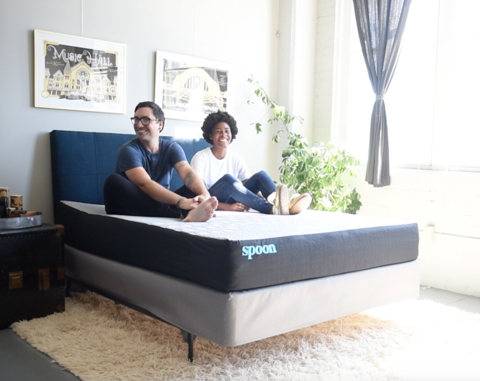 Construction Overview
Foam pillar construction: within each Spoon mattress is a layer of foam pillars suspended in a support core, designed from railroad beds to absorb as much vibration as possible. The foam pillars are located on the upper two thirds of the mattress to mirror the layout of our bodies and better contour to our shoulders, hips, and backs–so it matters which way you place the mattress. These pillars are so strong that during testing, they withstood 100,000 compressions with only a 1% decrease in durability. 
Memory foam layer: lies over the foam pillars to give additional support.
Cooling comfort layer: lies over the memory foam layer to provide maximum breathability.
LiveSmart Breathable cover: encases the entire mattress, spill resistant so you can finally feel comfortable eating tacos in bed (according to Spoon's Instagram).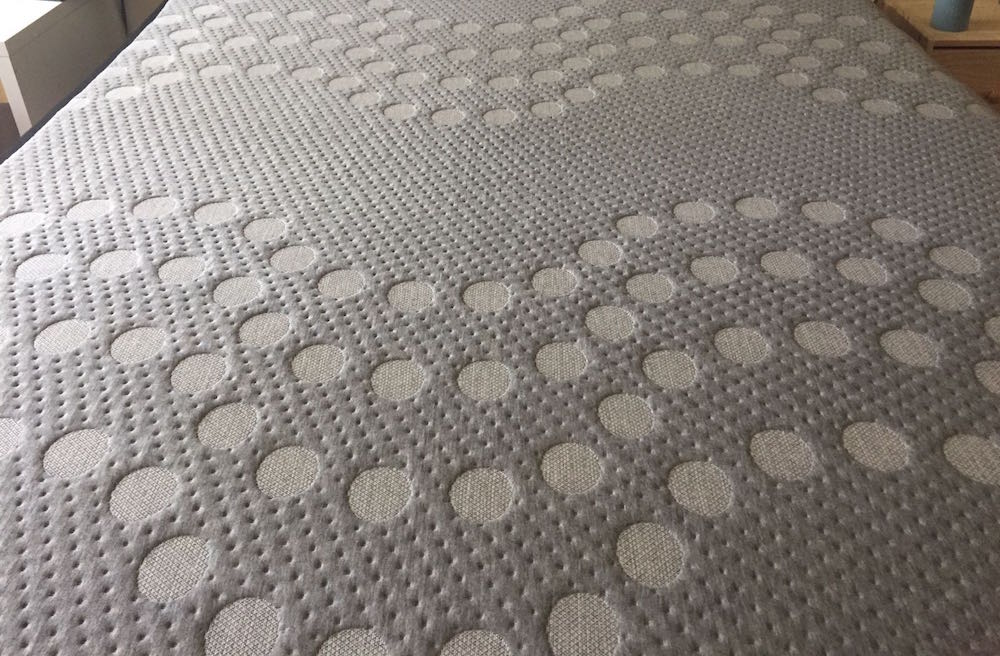 Specs
Spoon conforms to standard mattress sizes to make it easier to find the right sheets.
Twin: 75″L X 39″W X 10″H

Twin XL: 80″L X 39″W X 10″H
Full: 75″L X 54″W X 10″H
Queen: 80″L X 60″W X 10″H
King: 80″L X 76″W X 10″H
California King: 84″L X 72″W X 13″H
Who Might Want to Pick This Mattress?
This is a great mattress for those who struggle with back, shoulder, or hip pain, as the unique design allows for a perfect contour to your body, allowing your muscles to relax while you sleep instead of stiffen. This isn't the dense memory foam of the past, but something much more intuitive that you definitely do not sink into quite as much, but instead, feel supported just right.

Light sleepers with active sleeping partners will find the foam pillars of Spoon's design to be as vibration absorbing as they claim, so no worries if one of you is up studying, reading, or running in your sleep.
You want something durable. Spoon's mattress is designed to last you many, many sleeps. Its spill-resistant LifeSmart cover is designed to withstand life–from drinking coffee while studying or eating ice cream while streaming.
You (or your partner) overheat in your sleep. The LifeSmart cover coupled with the foam layers makes this mattress breathable and cozy at the same time.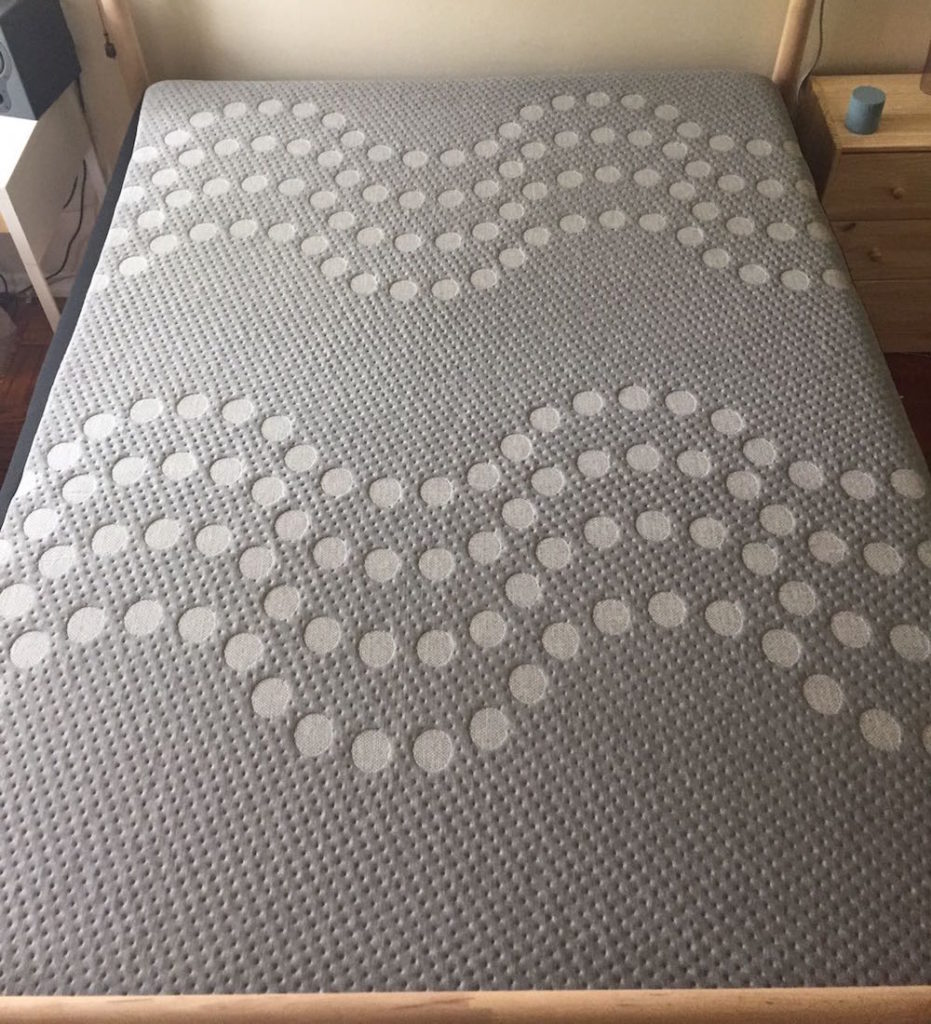 Who Might Not Want to Pick This Mattress?
Those who prefer the feel of the classic spring mattress or those who like to sleep on a very flat surface. This mattress is designed to conform to your body, and some want to feel as though their body is conforming to the mattress. 

Those who regularly sleep exclusively on their stomachs may find the weight distribution on the mattress to be slightly uncomfortable.
Motion Transfer
The vibration and shock absorption of the foam pillars makes it so that you don't feel your partner moving in bed. The mattress conforms to your movement easily, but readily absorbs that movement. 
Firmness/Feel
It's hard to classify the Spoon mattress as being soft or firm, because it contours to the body. So while it molds itself to you, it does not feel as though you are sinking into it, and provides support at the same time. I personally am wary of soft mattresses, but do not find this mattress to feel soft at all, yet at the same time it doesn't feel that firm. Maybe it's more of a Goldilocks situation, and it supports you just right.
Edge Support
Because the mattress is designed to contour itself to your weight so well, its edge support isn't fantastic when sitting at the very edge of the mattress, so it's easy to slide off, but the further you sit onto the mattress, the better the support is. Edge support is no concern while lying in the bed, because it's design is so intuitive to your body.
Returns and Warranty
Spoon's mattress comes with a 100 night return policy. They do not require you to get the mattress back into the box, and they will schedule a pick-up and donate the mattress locally or recycle it. They recommend taking 30 days to get a feel for the mattress before contacting them for a return.
Spoon's mattresses comes with a 10 year limited warranty, which covers workmanship and manufacturing defects. The fine print is listed on their website.
What Makes this Mattress Stand Out
You can tell that a lot of energy and testing were put into designing the most intuitive mattress. Spoon's foam pillar innovation allows for the perfect level of comfort, making it feel as though it was designed just for you.