I receive free products to review and participate in affiliate programs, where we are compensated for items purchased through links from our site (at no cost to the buyer).
This is a review for the HoMedics SS-2000G/F-AMZ Sound Spa Relaxation Machine
, one of the top selling white noise machines on Amazon.
Overall Pros
The Sound Spa is a solid sound machine at a great price.  It is very effective at blocking unwanted noise.
Overall Cons
The machine doesn't have many additional features that come with higher end machines.  It also may feel cheap or touch, in that it isn't made with the highest quality materials.
Ease of Use
This Relaxation Machine is very easy to use, with an intuitive interface.  The machine has just six sounds, and it's easy to switch between them.  Volume can be easily adjusted as well.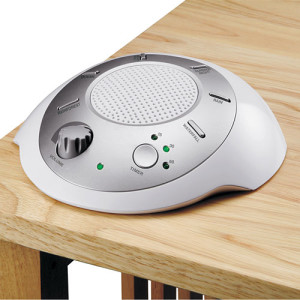 Value
The Sound Spa is considered the machine with the best value on the market, with a solid product priced at around $20.  Some consumers have noted reliability issues, and there is no warranty on the product, but generally most users are very satisfied for the price paid.
Sound selection and quality
The sound selection is decent, with six sounds including ocean, summer night, rain, thunder, white noise and brook.  The sound quality and volume is good, however the tracks are relatively short and on loops, which can be heard if one listens closely.
Features
The machine comes with few features aside from the core sound machine features.  It has an auto on/off timer and can be powered by either battery or adapter.
Design
The design for this machine is not particularly great, but generally well received by consumers.  The materials making up the machine are flimsy and lower quality, but the machine is compact, making it easy to use at home or for travel.
Brightness of display
The display light is minimal, and will not interfere with a successful night's rest.