I receive free products to review and participate in affiliate programs, where we are compensated for items purchased through links from our site (at no cost to the buyer).
This is a review of Nature's Sleep, a company that provides high quality memory foam mattresses (shooting for Tempurpedic quality) at a lower price point.  The brand isn't as well known as many of the top online mattress brands like Loom and Leaf or Leesa, but I chose to review this company because I heard a few people say good things about the product.
See my video review and the latest Coupon Codes below.

Choice- Nature's Sleep provides a lot of choice and flexibility with their mattresses based on cost, feel, and comfort level.  They have 16 different mattresses (and one additional one that is fit for a sofa bed) that differ in cost, feel, and comfort.
The most luxurious model is their St. Cloud Luxe mattress.  It is immaculately comfortable and consists of 12 inches of foam layers.  The 6" of high-density core provide you with a great level of support, while the top two layers of 2" foam provide maximum comfort, as the layers conform nicely to your body and relieves pressure points and reduces pain.  A queen mattress currently costs $2,400.  This model is fit for anyone wanting the highest quality mattress that allows for maximum comfort and support.  It's really for the people who are very serious about getting the best night of sleep possible.
Nature's Sleep also provides models for the more cost-conscious consumer.  The 8" Tobago model, for example, only costs $1,000 for a queen.  This model still has a 6" support core, but only one 2" layer of foam on top.  This model is still quite comfortable, but it is more affordable at the same time.

Healthy Materials- Nature's Sleep uses organic materials that are healthy and great for allergy sufferers. The foam that the company uses in its mattresses are hypoallergenic, meaning it is optimal for allergy sufferers.  The foams are also CertiPUR-US certified.  This certification means that the foams meet strict guidelines in how they are made and their impact on the environment and people's health.  The company, for example, does not use formaldehye or other potentially harmful chemicals in making its mattresses.
The company generally uses eco-friendly materials.  Its delivery process is also very eco-friendly because of its vacuum packaged process that decreases the environmental impact from shipping.
Feel- Everyone you talk to raves about the feel of the mattress.  You truly get lost in the memory foam as it contours to your body and wraps around you.  "Sleeping on a cloud" and "sleeping on air" are phrases that I have often seen used to describe the feel of the mattress.  I think if you understand the concept of memory foam mattresses and how they feel, you will not be disappointed in Nature's Sleep.
Shipping Process– The shipping process is pretty cool, so I thought I would call it out separately.  The mattress is vacuum packed, meaning that the company basically sucks all the air out of the mattress and fits it compactly into a fairly small box.  Once the packaging is opened, the mattress slowly inflates and becomes the mattress that you expected.  This process is cool and extremely efficient.  It makes the process fairly simple and reduces the company's impact on the environment.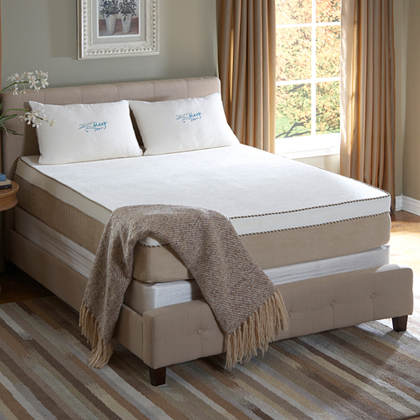 Looks- This is an often underrated aspect that most people don't think about when people buy mattresses.  Most mattresses available are very plain looking and are rather boring.  People need to buy interesting bedding just to make the mattress look okay.  Nature's Sleep mattress look great.  All the models have a good-looking color scheme and many have an interesting stitching on the edges that add a nice extra touch to the mattress.
Price/Value- For a very high-quality memory foam mattress, Nature's Sleep provides a tremendous value to consumers.  The company presents itself as a supreme quality, practical cost provider.  Based on the quality of materials that the company provides in its mattresses, I would tend to agree with this statement.  If you look at buying a mattress seriously and as an investment, their mattresses really deliver a great value for the price.
Warranty- Nature's Sleep provides a 20-year limited warranty for all its mattresses.  This is a long warranty period and an indication that the company expects their mattresses to last a long time.  The warranty basically states that the company will replace or repair any mattress that has a structural defect.  There are specific limitations to this warranty of course, but overall it is a solid warranty that shows the confidence the company has in its product.
Advice- If these mattresses are in your price range, you can definitely find an amazing mattress and get a really great value.  Given that they have 16 different models to choose from, I would recommend you read their detailed descriptions to figure out which model might be best for you.  They differ in size, thickness, and price.  If you just do a little research, you will easily come to find the ideal model for you.  Also keep an eye out for Nature's Sleep Coupons.
I think overall, Nature's Sleep mattresses are for someone serious about getting an amazing night of sleep.  If you are only going to have a mattress for a couple of years and then move on, perhaps these mattresses aren't for you.  However, if you want to buy a mattress for the long-term, Nature's Sleep provides an amazing set of options.
Click here to visit Nature's Sleep.
I hope that you've enjoyed our Nature' Sleep mattress review and found it to be helpful!