I receive free products to review and participate in affiliate programs, where we are compensated for items purchased through links from our site (at no cost to the buyer).
Tuft & Needle is another new company that is shaking up the industry.  It sells directly to consumers through its website and through Amazon.  Currently, it is the highest-rated mattress on Amazon.  As such, I had to take a look for myself and do an investigation to find out why that is.  Here is my Tuft and Needle mattress review.
Construction
The Tuft & Needle mattress is hand-crafted and made all in the US.  The design of the mattress is straight-forward and is simply a triple layer of blended foam that is unique to Tuft & Needle.  It is a higher-density foam that is layered in a specific way so that it will last anywhere from 7 to 10 years with normal daily use.  The company likes to keep its suppliers secret because they feel that's where the secret sauce is for their success.
The cover is made from natural cotton and is infused with poly fiber to keep the mattress from sleeping hot.  The foam is CertiPur-approved and low VOC.  This means the mattress is generally more eco-friendly than most, which is always a plus, and doesn't have the chemical smell that some memory foam mattresses can have.
The mattress has a medium-firm comfort level.  This will be perfect for the vast majority of sleepers and it balances comfort and support quite well.  Unless you have a specific disposition to an extra soft or extra firm mattress, this mattress/comfort level should be great for you.  You can choose between a 5" and 10" thickness level.  Which one you should get just depends on what kind of setup you have in mind for your bedroom.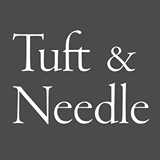 Free and Convenient Shipping
Tuft & Needle stands out in that it provides free shipping.  That means there won't be any surprises and added costs when you get to the checkout page.  This makes the mattress an even better deal.  To make things more convenient for you, they even provide evening shipping or will ship the mattress to your nearest FedEx location.  Getting a mattress shipped to you can be kind of a hassle in general, but Tuft & Needle makes it as simple and pain-free as possible.  This is definitely a differentiating factor for them.
Price/Value
Tuft & Needle's big pitch and main marketing message is they deliver the best price/value for what you get.  It is true that there can be huge markups in the mattress industry.  A mattress that is priced at $3,000 in a retail store can cost the manufacturer as little as $250-350.  It doesn't seem right then that the mattress will get marked up to a few thousand dollars when it finally gets purchased by the consumer.  Tuft & Needle tries to take advantage of this by selling directly to consumers, cutting out the middleman in the supply chain, and keeping their mattresses very affordable for the masses.
When all is said and done, you are getting a very high quality mattress for under $500.  The value Tuft & Needle provides is really extraordinary.  They do not provide any discounts because they truly believe their price is more than fair and they don't need to provide any discounts.
One Product
Another way Tuft & Needle stands out is they offer just one product.  They say they want to focus on one product to make it exceptional, rather than having multiple products that are less than exceptional.  They believe that they have accomplished this and have come up with the best mattress you can get for the money.  I like the simplicity of this business model, and think the majority of people don't need or want to be inundated with a ton of choices when it comes to getting a mattress.  Buying a mattress can be a confusing process, and these guys make it as simple as possible by providing one really great product.
Return Policy
The return policy is very favorable.  You get 100 days to try it out, and if you don't like it after the trial period is over, you can get a full refund.  The company normally will give the mattress away to a charitable organization.  They also don't have any fees associated with an exchange, and they make the process of returning/exchanging your mattress as easy as possible.  Their return policy is really great and another differentiating factor for them.
Warranty
The warranty is non-prorated and is for 7 years.  The duration is less than other companies, but the fact that it's non-prorated is really great.  From what I've seen, the company will definitely act in good faith and help repair or replace your mattress if you experience a defect in the mattress.  Overall, I would say the warranty is pretty good.
Customer Service
These guys take customer service very seriously, which is definitely a breath of fresh air in this industry.  I think they rate so highly on Amazon because they really make that extra effort in customer service.  It's really great and the are very responsive to any questions or problems you have.
Overall
This mattress is perfect for someone who doesn't want to spend a ton of money on a mattress, wants the mattress to be a good balance of comfort and support, and wants to get a great value.  Certainly if you want a higher-scale mattress, there are probably other options out there that would be better for you.  I think this product is rated so highly on Amazon because it was built for the masses.  It's a great and really affordable and I highly recommend checking it out.
We hope you enjoyed our review of Tuft & Needle and found it helpful!