I receive free products to review and participate in affiliate programs, where we are compensated for items purchased through links from our site (at no cost to the buyer).
I'm in a funny position where my friends often come to me for mattress advice. I've recommended a number of brands over the years, but the one I've gotten the most consistent positive feedback on is the Saatva luxury firm (See how Saatva compares to other retailers HERE). No mattress suits everyone, but this mattress in particular does a uniquely good job of being a great solution for many different types of sleepers. In most industries, paying more almost always means getting a better product, but in the video I explain why Saatva is able to compete so well against higher priced options.
Check out my video and my full written video below.
Click Here To See How Saatva Compares To Other Mattress Competitors
Simplicity
Mattress details can get complicated, so I love that Saatva makes the shopping process as simple and easy to understand as possible.  They basically have one mattress and you get to choose between three "comfort" levels, Plush Soft, Luxury Firm, and Firm.  They have customer service representatives to help you figure out which is the best for you, but the majority of people will probably want the luxury firm.  It is the best balance between support and comfort.  In an industry that can be so confusing, I appreciate how simple Saatva has made the mattress buying process.
Online Only
Main Benefits Of Buying A Saatva Mattress
Value– The online-only business model means offering a hiqh-quality product at a great price.
Balance– Great balance between comfort and support, making the mattress ideal for most sleepers
Simplicity– Top-notch customer service, simple product line, and transparent website mean painless shopping
You can only get a mattress from Saatva online.  While that might struck some as unique and something they might be hesitant about, I no longer feel that way.  They send the mattress to your house and then you have 30 days to try it out.  If you don't like it after 30 days, you can send it back free (well, basically free, you are just responsible for the original delivery fee).  That seems like a very friendly return policy.  From my limited experience and from also canvasing the Internet reading a large number of reviews of this company, it seems that Saatva has the best customer service you could ask for.  When you add all of this up (aside from the fact that you will have a very low probability of wanting to return the mattress), I would say you should have next to zero concerns about buying online.  e-Commerce is a trend that is here to stay and there's no reason why it shouldn't come into the mattress industry.
Sustainability
With everything you hear today about climate change, it's always nice to hear when companies are mindful of their impact on the environment.  Whether it's a retailer using solar panels on its buildings or really anything else, I feel that companies have a duty to take the lead on sustainability in this country.  Saatva uses eco-friendly materials, such as an organic cotton outer cover, recycled steel inner springs, and a bio-based memory foam component.  While that is nice, just the fact that they don't have any retail stores means their overall impact on the environment is quite low.  Running a store takes a lot of energy and Saatva doesn't do any of it.  It is, in my opinion, a company with sustainability in mind.  We feel that you can't have a Saatva mattress review without mentioning this aspect of their company.
Quality Construction
Main Drawbacks Of Buying A Saatva Mattress
Flexibility– One product does not cater to all people who may have specific needs
Testing Before Buying– You can't test the mattress out before you buy it. This is negated, however, by the 120 day trial period and very friendly return policy
I'll try to keep this part as easy to understand as possible, but overall, Saatva uses very high quality materials.  The euro pillow top, for example, is something that you only see in the highest quality mattresses.  They have an advanced coil on coil construction that helps the mattress contour to your body and provide maximum comfort and support.  The rest of the details can get a little complicated, so I would best describe the construction by saying the mattress is built so that it balances comfort and support perfectly and is very durable.  This has been my experience using this mattress.
Great Value
Saatva's value proposition is that it provides a mattress that you would see at the best luxury hotels for a fraction of the cost.  Something that might normally cost $2,000-3,000 is being sold for under $1,000.  They are able to do this because of all the costs they save by not running a retail store (yay, e-Commerce!).  I view Saatva as the best way to get a luxury mattress at an affordable price.  Having said all of this, if you are a parent buying a mattress for your kid's college dorm room, you probably don't want to spend just under $1,000 on a mattress.  Saatva's mattresses therefore aren't for everybody.  However, if you have back or neck pain or you want a very comfortable mattress at an affordable price,  Saatva offers a great choice. Here are our final ratings for Saatva's luxury mattresses.  We have no complaints about this mattress, and find it overall to be excellent.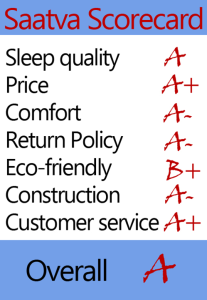 Final Verdict?  We feel really strongly about Saatva and the product they provide.  They are truly disrupting the mattress industry and have provided an excellent mattress at a really affordable price.  The customer service is amazing and the overall experience is excellent.  We heartily recommend this product.
We hope that you have enjoyed our Saatva mattress review and found it to be helpful (see another review for more information).  Buying a mattress is a big decision, so we hope that we have helped you with the process!
Other Articles: