I receive free products to review and participate in affiliate programs, where we are compensated for items purchased through links from our site (at no cost to the buyer).
Sleeping Pad
Sleeping pads help make your camping trip more comfortable, placing a layer between you and the hard — and sometimes rocky — ground. Though the comfort is nice, it's also an additional item to pack in the car and carry to the site. Prices can range from just $20 to several hundred depending on the style and quality you want. Research the various features to determine which kind of sleeping pad is the right one for you.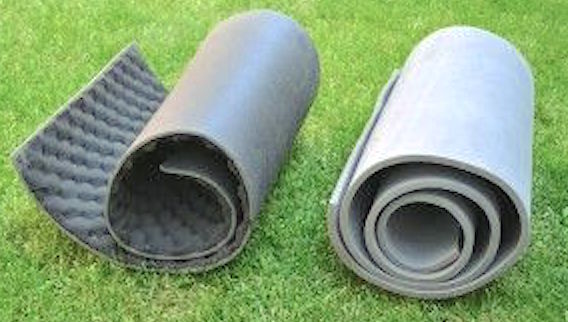 Types
Sleeping pads are either inflatable or made from a closed cell foam. Self-inflating pads have a foam cushion on the inside. When you roll it up, you push the air out and the pad becomes thin and lightweight. When you untie it, though, the air gets in and it puffs up again. Other inflatable pads require you to blow air into an opening or use a small fan. A pad is much thinner than an air mattress, so blowing it up manually is not much of a problem for most people. The foam pads are typically less expensive, but not quite as comfortable as one filled with air.
Size
Pay attention to the size of the sleeping pad before you make a purchase. Most brands offer regular and extra large sizes. Some even have child sizes, which can be even more affordable, though you'll have to purchase a larger size when your child outgrows the smaller pad. If you're not sure about size, it's smart to measure your sleeping bag to ensure it will fit on the pad. All sleeping pads roll up for convenient carrying. Some will roll to be about the size of a one-liter bottle. When space is a concern, pay attention to the rolled size more than the unrolled size.
Weight
For those who hike to the camp site, the weight of the sleeping pad is definitely something to consider. Companies design the pads to be lightweight, but some are lighter than others. There's sometimes a trade-off, though. For example, the closed cell foam pads are the lightest, but they aren't as comfortable as other styles. An inflatable air pad offers more comfort, but can be slightly heavier. Think about how much weight the pad you choose will add to your pack's total weight.
Added Warmth
Most sleeping pads offer more than just comfort during sleep. Many are also designed to provide warmth. Using a variety of methods, the pad reflects your own body heat, keeping you warm throughout the night. Even in the summer, temperatures in the great outdoors can drop, so this feature is definitely nice to have.
A sleeping pad is an investment in your comfort while camping. Higher prices typically reflect higher levels of comfort and higher quality materials. However, you'll have to weigh the cost with how much you value those things and how often you'll use the pad.  If you can find a discount, that may bring a higher quality sleeping pad into your price range, so keep an eye out for ongoing deals.