I receive free products to review and participate in affiliate programs, where we are compensated for items purchased through links from our site (at no cost to the buyer).
Stearns and Foster has been around for a very long time, since the middle of the 1800s.  They have always been known as a premier luxury mattress brand.  They have an interesting history and a great reputation, so I set out to learn as much as possible about their mattresses and come up with my own ideas about their quality and value.  Please read further for my Stearns and Foster mattress review!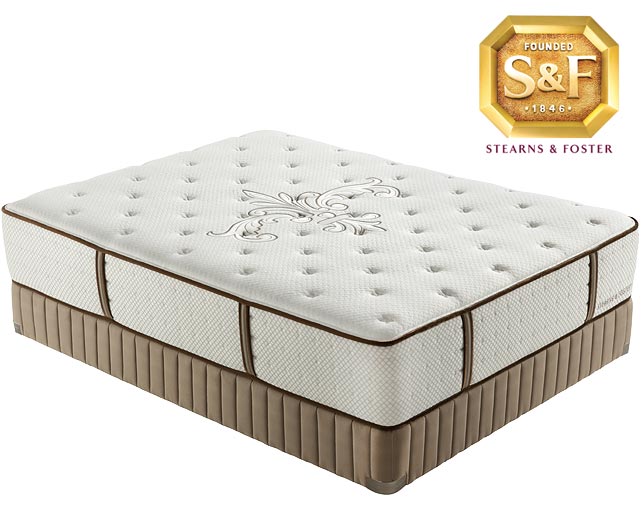 Looks
One really good thing about Stearns and Foster mattresses is that they do look great.  A lot of mattresses are overly bland and really need to be spiced up with bedding to make them look nice in a bedroom.  That is not the case with Stearns and Foster.  The design gives a really smart look.  If that is something that is important to you, then this company has a big advantage.
Variety of models
Stearns and Foster provides a good variety of models so that you can find one that best fits your specific needs.  The models vary in price, construction, and comfort level.  The price range is anywhere from $1,200 to $4,000.  The comfort levels available are plush, cushion firm, firm and ultra firm.  With a little bit of research, you should be able to select a comfort level that fits you the best.  They also provide differences in construction, with traditional innerspring models and models that are hybrids or innerspring and memory foam.
Good Comfort and Support
No matter what the model, these mattresses provide a great balance of comfort and support.  The construction of the mattress was carefully done to ensure this, and all the reviews of this brand seem to back this claim up very well.  The mattresses have an individually wrapped titanium coil system and depending on the model they may have any number of memory foam and comfort layers on top.  While I did not test these mattresses for more than a week, I can confirm based on my experience and everything that I have read that these mattresses are quite comfortable and supportive for your back.
Good circulation
As with any mattress that has a memory foam component, circulation is always a question.  Memory foam can heat up and be an uncomfortable experience if there isn't something in the construction of the mattress that prevents that.  Stearns and Foster has a proprietary vent system that keeps the mattress from heating up, allows for good air circulation, and makes for a nice and cool sleeping experience.
Good for motion transfer
One consistently good thing that I have noted in my research is that the mattress is great for couples who would otherwise worry about motion transfer.  The individually wrapped coil system is great for minimizing sleep disruption from motion transfer from a partner.  This is a unique aspect to the mattress, and it s a big plus if you will be sleeping with a partner and this is a concern for you.
Questions about longevity/durability
The biggest complaint about all Stearns and Foster mattresses is related to longevity.  A lot of people report sagging in the mattress after not too long.  Based on the construction of the mattresses, I would have to say that longevity is an issue.  Unless you are a very light weight person, you may notice depressions forming in the mattress after a while.  If you are buying a mattress that you want to last a long time, this is definitely a concern.  While I haven't personally tried one of their mattresses for an extended period of time, there is enough consensus to confidently list this as the major concern with this brand of mattresses.
Price/Value
Stearns and Foster provides a lot of choices with its different models.  Depending on the model, the price can get quite expensive.  I don't get the feeling based on my experience and from what I've seen that getting a more expensive model will lead to that much greater satisfaction.  As a result, if you are going to buy one of their mattresses, I would suggest getting one of the lower-cost models.  Especially with the durability concerns, going for the lower-cost model is probably the way to go.
Overall
I think these mattresses can be good for the right person.  They do provide a very comfortable and supportive sleeping experience, but for the price, I think there may be some better options out there.  If you are looking to get a mattress for the long-term, durability is an issue.  I overall give a mixed recommendation as a result.  For the right person, these mattresses can be great, but I would also provide a degree of caution for those looking for long-term value.
I hope you've enjoyed our Stearns and Foster mattress review and found it to be helpful!
Review of Saatva's Luxury Mattress